Start with the brand
The red brackets featured in the logo created by Pentagram play a key role in Perot's visual identity. Symbolic of so much more than just the iconic cube-like structure of the museum itself, the brackets are a portal into the the vast world of nature and science.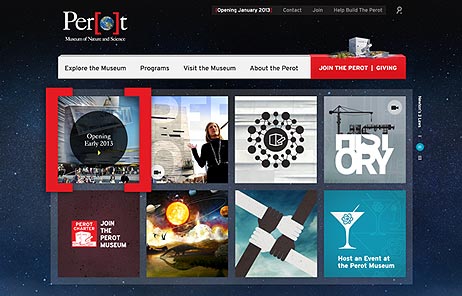 Make the Website an Exhibit
Rather than simply mimic the museum online, Lifeblue designed the "thirteenth exhibit," a website that furthers the mission of the Perot – inspiring minds through nature and science – through didactic features as well as moments of cute and silly that inspire child-like curiosity.
30% Membership Conversions
490% Unique Traffic Visits
6k to 27k Facebook Likes in 6 mo.
Infinite Inspired Young Lives